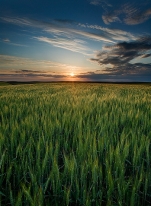 Sustainability
Research, education, epistemology
Over the years there have been many and even contrasting definitions of the term sustainability. These often betray the underlying assumptions of the author and make clear a cultural and epistemological perspective which can alternately emphasize a natural or an anthropic component.
A fairly general model – emphasizing the role of humanity as inhabitant-guest, rather than manager – can be summarised in terms of sustainability as a composite of knowledge, attitudes and actions which allow humanity to live indefinitely in harmony with natural systems.
It comprises environmental, economic, social and cultural aspects and assumes a cross-disciplinary perspective on research into the natural world, human communities and activities, education designed to promote knowledge and awareness of the issues involved, and epistemological reflection on how research and knowledge are produced.

- - - - - - - - - - - - - - - - - - - - -
To introduce Sustainability from an inter/trans-disciplinary point of view:
Approaching Sustainability (Italian text) >>>
- - - - - - - - - - - - - - - - - - - - -
Details:
Introduction to the Issue of Sustainability